The Red Ampoule Solution Fat Dissolving Lipolytic Injection
Lipodissolve liquid is specially aimed at fat dissolution and it improves the shortcomings
of traditional lipodissolve needles . Our products add highly concentrated VB and other effective ingredients to quickly decompose fat, promote the decomposition of fat and quickly discharge out of the body, and perfect shaping after Syncrolift tightening, which can be used for facial obesity, double chin, shaping such as excessive local fat in the body.

What is Red Ampoule Solution ?
It is the world's first addition of highly concentrated vitamin B12 and other active ingredients for rapid fat decomposition,promote rapid fat decomposition, and quickly exclude it from the body. Different from the traditional fat-dissolving needle, it improves the shortcomings of the traditional fat-dissolving needle, such as easy pain, redness and swelling, and slow effect. It
has been certified for its high safety, quick effect and little side effects.

Product name

Lipolysis injection The Red

Package

10 ml/bottle,5

bottles/

box

,

Origin
South Korea

Content

Vitamin B12

,

Metabolic fatty acids

,




Bromelain

,

Lecithin

.

Fit People

Fit all people




except the baby,kids,and

those

who

are

old

weak

,

ill

or

disabled

Special Attention

The treatment site is not broken, infected, and red. The healer is healthy and has no fever, flu, chronic diseases (such as diabetes and heart disease) and infectious diseases (such as hepatitis B and AIDS). It is best to avoid Female menstrual period.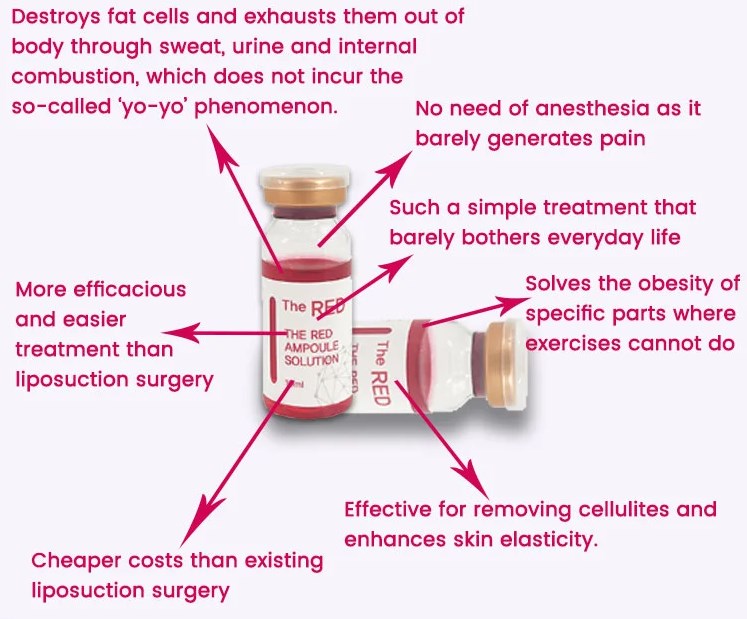 The ingredient includes :
1.Vitamin B12: in the form of coenzyme, can increase the utilization of folic acid and promote the metabolism of carbohydrates,
fats and proteins
2.Metabolizes fatty acids, making fat, carbohydrates and proteins suitable for use by the body
3.Bromelain: It can catalyze the cleavage of peptide bonds in protein molecules, decompose proteins, peptides, lipids and amides,
and has anti-inflammatory and anti-edema effects.
4.Lecithin: Decomposes large excess particles of fat, replenishes acetylcholine, and replenishes energy

Main Injection Area:
1. Double chin : Facial layer of fat which makes thick neck and double chin.
2. Armpit, forearms : Armpit lines of the front part
of arms, forearms around the triceps.
3. Back : Brassiere line which gets a style of dressing disheveled.
4. Abdominal region, ribs(love handle) : abdominal region and weighty ribs on both sides, love handle on the rear side.
5. Hip : Line under a hip which is connected to thighs .
6. Thighs : External or internal lines which jiggle due to excessive fatty layers.