Fosyderm hyaluronic acid fillers biodegradable gel made of non-animal cross-linked hyaluronic acid. It is a series of cross-linked hyaluronic acid dermal fillers that are used to treat signs of aging. The products are developed to smooth outlines and wrinkles, shape facial contours and add volume to lips, enlargement breasts and buttocks and other parts where needed. Fosyderm is safe and effective to treat the entire face creating a more beautiful and youthful look.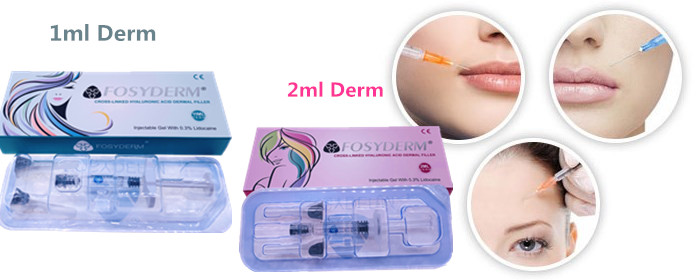 Specification

Fine

Derm

Deep

Subskin

HA

C

ontent

24mg/ml

24mg/ml

24mg/ml

24mg/ml

Particle

S

ize

0.1-0.15mm

0.15-0.18mm

0.28-0.50mm

0.50-1.25mm

Needle

2*30G

2*27G

2*26G

2*23G

Duration

6-12months

6-12months

6-12months

6-12months

Model No.

1ml,

2ml,

5ml,

10ml,

20ml,

50ml

Function

Thin superficial lines

Moderate wrinkles,Lip enhancer

Deep facial wrinkles and folds,l

arge deep wrinkles and folds

breast and other body parts enhancement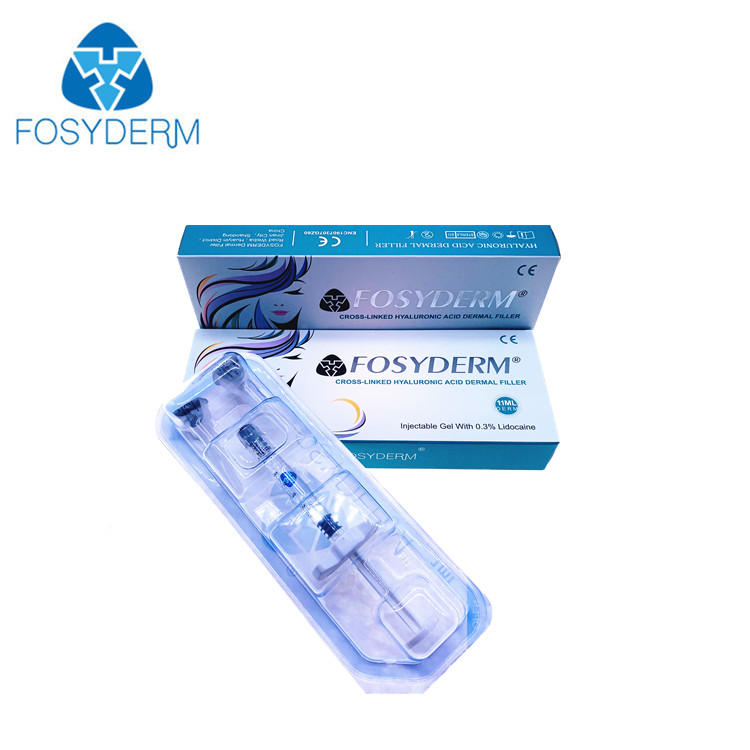 What is the difference of Cross Linked and Non-Cross Linked?
For Non-Cross linked : HA chains in solution naturally form entangled networks,chains can disentangle and leave,Short duration;
For Cross linked :To maintain entanglement a few chemical cross-links are introduced,the links prevent chains from leaving,Long duration.
Fosyderm hyaluronic acid injection is made of cross linked sodium hyaluronic acid,so the effect will be more long lasting.
What is the difference between botox and dermal filler?
In summary, the differences between Botox and hyaluronic acid fillers are:
Botox: This freezes muscles to stop creases and wrinkles caused by facial expressions. These are typically found in the upper face, such as the forehead and around the eyes.
Dermal fillers: These use hyaluronic acid and similar substances to "fill in" or plump areas that have lost volume and smoothness. This includes wrinkles around the mouth, thin lips, and cheeks that have lost fullness. They may also be used on forehead wrinkles, scars, and other areas that need extra volume for a smoother look.
Botox results last 3 to 4 months,or more. Dermal filler last 6 to 12 months or more.
Because Botox and fillers are different substances designed for different uses, they can sometimes be combined in one treatment. For instance, someone may use Botox to correct lines between the eyes and a filler to correct smile lines around the mouth
Advantages:
Excellent Safety(raw material and the finishied product are 100% of hyaluronic.)
Pure HA(Hyaluronic Acid) filler that other foreign substance is not added
Long lasting effect within the body
Application of specialized Cross-linked technology
Easy Molding Strong Viscosity
Show higher volumetric effect in same filler amount
FAQ
Q:Do you have permanent filler?
A:The main component of permanent filler is bone cement. After injection, the bone cement gradually grows together with skin tissue, it couldn't be taken out, and can not be absorbed, the risk of side effects and sequelae is high.Hyalurnic acid filler is the most popular and safest treatment now, usually 6-18 months is the longest lasting period under the premise of ensuring maximum safety.
Q:Anesthetic contained?
A:To meet with the various demand from customers,we have developed three new models with 0.3% lidocaine, if you need them, please contact our sales!
Q:How long does the effect last?
A:Treatment results will be different from each person. In a clinical study, the treatment results lasted for 12-18 months after the first treatment session for most patients. Touch-up treatments can maintain the desired effect.
Q:Is it safe to inject?
A:Yes! There are very few risks linked to treatment with BEUFILLER brand hyaluronic acid dermal filler,Once chains have been released they follow the same pathway as natural HA.The amount of HA that is degraded and eliminated each day from the implant is negligible compared to what is normally degraded in the body.It is broken down by body. None of it remains in skin and the skin does not suffer any damage.
Q:Is it good for hyaluron pen?
A:Yes!While administering by hyaluronic Pen, drugs are absorbed and distributed under the skin also good in comparison with simple injections made by a basic needle.
Q:What is the hyaluronic acid MOQ ?
A:We welcome small quantity for testing quality. MOQ is only one piece!,separate package.
Q:If I order large quantity,do you offer any price discounts?
A:Yes,we'll give you a discount based on your quantity.The more you order,the lower the price.