2ml Deep Cosmetic Product Injectable Dermal Filler Cross Linked hyaluronic Acid

Injectable Dermal Filler Information:
Hyaluronic acid also exists naturally in our bodies and its most important function is to carry and bind water .Hyaluronic acid is a polysaccharide and is one of very few stubstances that it is identical in all species and tissue types. It plays an important role giving volume to the skin, shape to the eyes and elasticity to the joints.It can be found in the eyes, tendons, articulations, and above all in the dermis of the skin.With the years our skin produces less hyaluronic acid, which is the result of normal aging process.Your skin becomes thinner and as a result, it becomes loose and starts to wrinkle.
| | |
| --- | --- |
| | Fosyderm Hyaluronic Acid Dermal Filler |
| | Cross linked Hyaluronic Acid |
| | |
| | Anti aging FaceLift face contour body contour |
| | |
| | |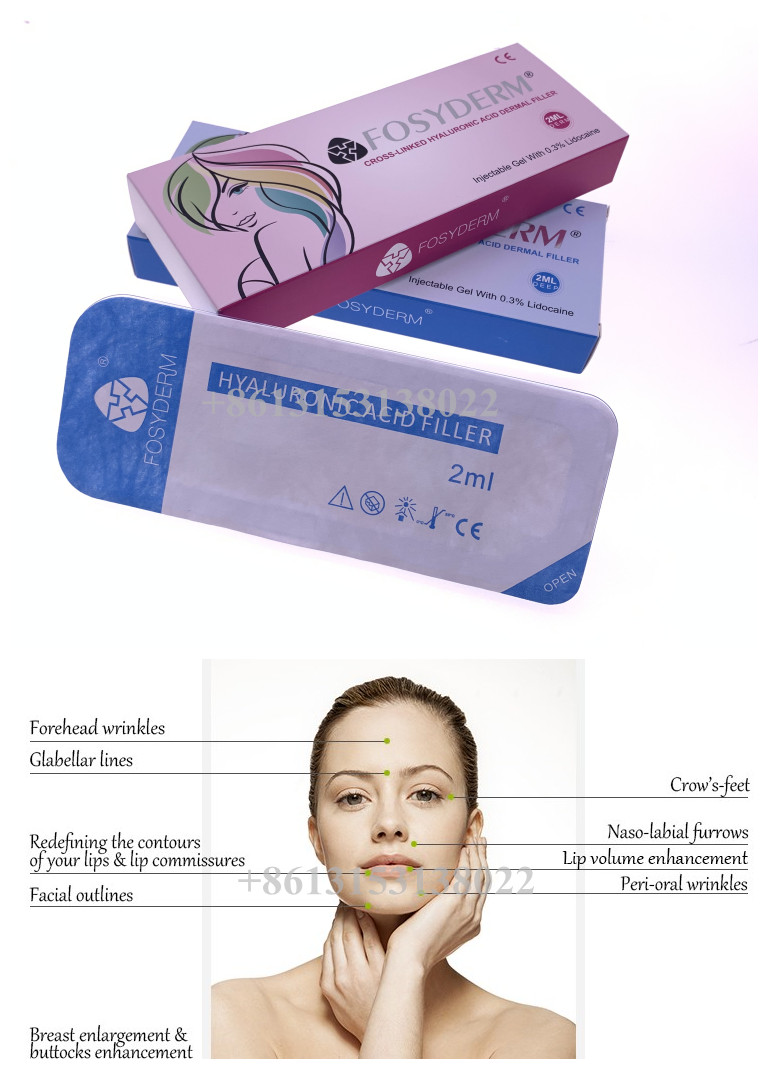 Deep Dermal Filler:
Specification: 2 ml syringe
Injection site: deep dermis
Indication: filling of nasolabial fold,Deep wrinkle filling, cheek, cheekbone and chin shaping
Recommended injection needle model: 26G
Effect maintenance time: About 6-12 months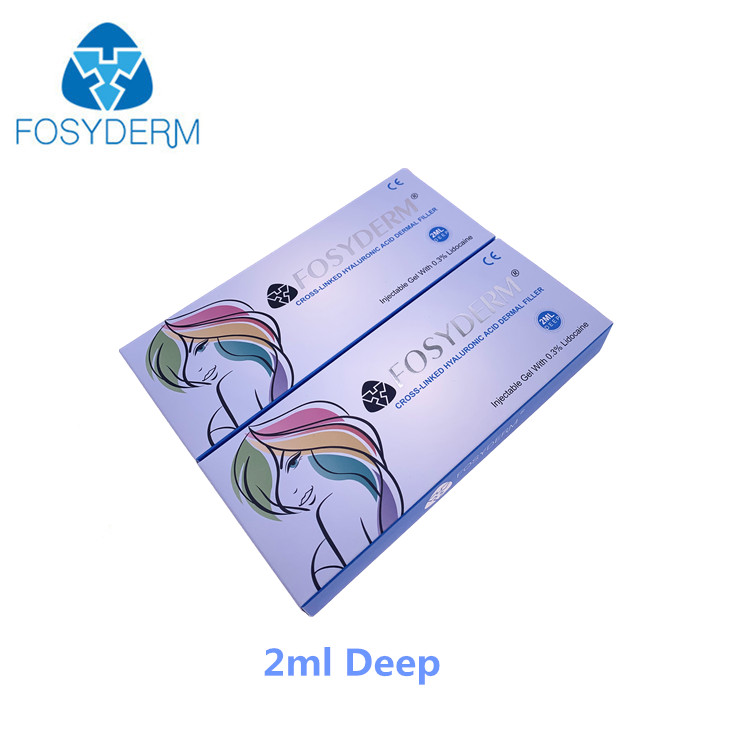 Hyaluronic Acid Dermal Filler Accept OEM
★ 1 Inquiry: Small quantity test order accepted. Contact us for more products details inforamtion.
★ 2 Design:We can help you design exquisite product packaging for free, until you are satisfied.
★ 3 Sample Making: We will make sample and send to your country.
★ 4 Production: After confirming the packaging samples and product quantity specifications, we will start mass production.
★ 5 Delivery: We will arrange delivery immediately within 3 working days after receiving the final payment and confirming address.
Inject Areas: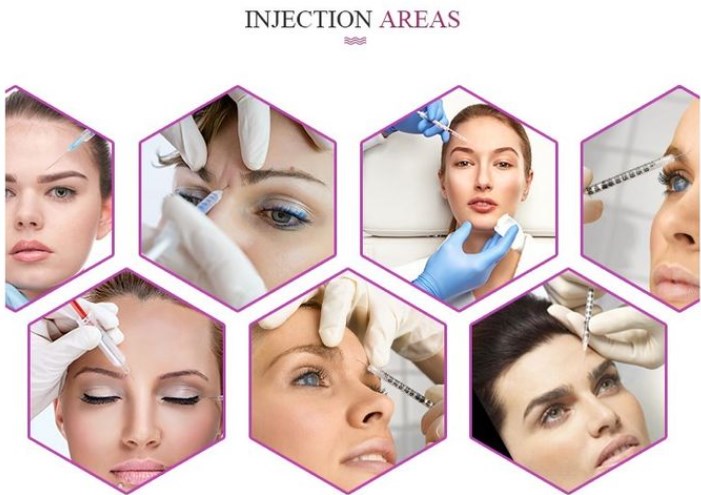 FAQ:
Q: Does Hyaluronic acid can cause allergy? Have allergic source?
A: No !! No-animal cross-linked hyaluronic acid filler, unlike rooster - derive hyaluronic acids and bovine collagen items, Our
Fosyderm is free from animal proteins ,this effectively avoids any risk of animal -based disease tranmissious or allergic
reactions to animal proteins.

Q: Does Hyaluronic acid dermal fillers safe?
A: Yes From cross-linked hyaluronic acid and non-animal origin abtained by bio-fermentation, high quality.Stabilized pH and
osmolarity, close to that of the skin, reduces the risk of oedema and swelling

Q: What is hyaluronic acid side effects?
A: No side effect, high quality, less invasive Fill in wrinkles and smooth your skin without inhibiting facial expression.