2ml Fine Lines Filler for Anti Wrinkles HA Gel Dermal Filler
What is Fosyderm Hyaluronic Acid Dermal Filler used for?
Fosyderm works by adding volume to facial tissue, thus improving wrinkles and folds and restoring a smooth appearance to the face.
Hyaluronic Acid Specification:

Type

Fine

HA Concentration

24mg/ml

Ingredients

Cross-linked Hyaluronic Acid

Areas

-A speedy correction of periorbital wrinkles (particularly crow's feet)




-A durable reduction of worry lines




-A visible removal of perioral lines and wrinkles

Package

one syringe(2ml) and two BD needles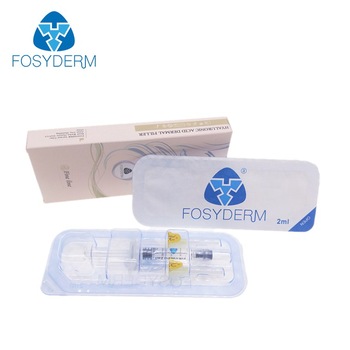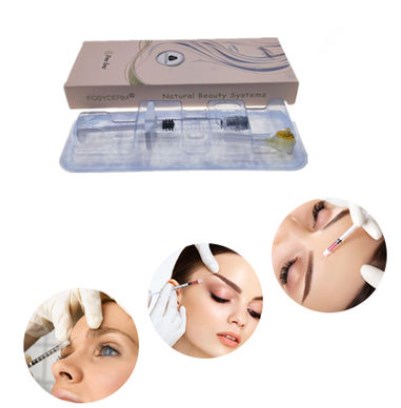 How Can Dermal Fillers Enhance My Appearance?
◆Smooth out lines around nose and mouth (a.k.a. marionette lines, smile lines, and parentheses)
◆Enhance & restore volume to sunken cheeks or temples
◆Diminish vertical lip lines
◆Plump & enhance the lips
◆Smooth out a chin crease
◆Improve symmetry among facial features
How is it used?
Fosyderm injected into areas of facial tissue where moderate to severe facial wrinkles and folds occur. It temporarily adds volume to the skin and may give the appearance of a smoother surface. The method of use is simple, generally direct injection is sufficient.
Before and After: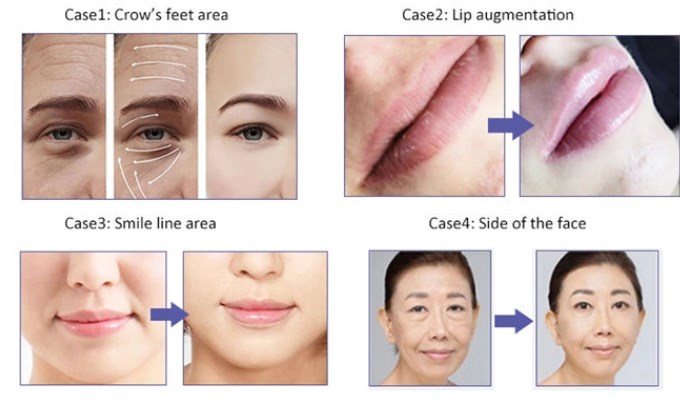 Advantages:
✔ Fosyderm is a non-animal crosslinked HA soft tissue filler. Fosyderm works by adding volume to facial tissue, thus
improving wrinkles and folds and restoring a smooth appearance to the face. Fosyderm uses only the highest purity of HA through bio-fermentative origin.
Fosyderm uses non-animal based HA with high purity and is a completely natural substance optimized to synchronise with human skin tissue.
✔ Unique Cross-linked HA Technology
Fosyderm has a unique cross linking technology that does not need free HA to adjust the physical property of its gel formula.
It's one of Fosyderm stand-out properties. This malleable consistency creates immediate and long lasting volume and also allows the product to break down evenly with a natural finish.
✔ Highly Consistent Mono-phasic Structure
Fosyderm is comprised of a regular and dense monophasic structure, which makes the gel product stable and consistent. The consistency of the pattern allows for naturally harmonized volume, smooth injection and promotes a stronger support system
within the skins structure.
Fosyderm has a low percentage of product migration, meaning that once injected, the product is more likely to stay close to the injection site with accuracy.
Our Company
Fosyderm is a professional company focusing on the development of medical and to treat signs of aging. They are composed of cross-linked hyaluronic acid from a non animal-based HA gel. The gel is clear, colorless and biodegradable.The products are developed to smooth outlines and wrinkle, shape facial contours and add volume to lips.
Fosyderm was founded in 2005 and covers an area of 8000 square meters with about 150 staff members; our company is located in a beautiful city-Jinan, Which is the capital of Shandong. We specialize in the development production and sales of beauty products, OEM request is also welcomed