Juvederm Ultra3 Injectable Dermal Filler HA Gel Injection

JUVÉDERM FILLERS FOR DIFFERENT NEEDS:
Juvéderm is Allergan's collection of hyaluronic acid fillers formulated to add volume to different areas of the face. HA is naturally occurring in the skin as a substance delivering nutrients and helping to retain moisture and softness in the skin. As a result, all Juvéderm dermal fillers are naturally dissolved in the body over time.
What is Hyaluronic Acid?
Hyaluronic acid (HA) is a natural substance found inside the human body. It's key properties are to keep the skin hydrated whilst adding plumpness. HA naturally breaks down in the body during metabolism and is then replaced. However as we get older and our metabolism slows down, replacement of HA is less often which results in less hydrated skin and less volume in the skin.
Medical professionals have been using HA in arthritis treatment and during eye surgery.
Available syringe size: 1 kit = (2 x 1 ml syringes)
JUVÉDERM ULTRA 3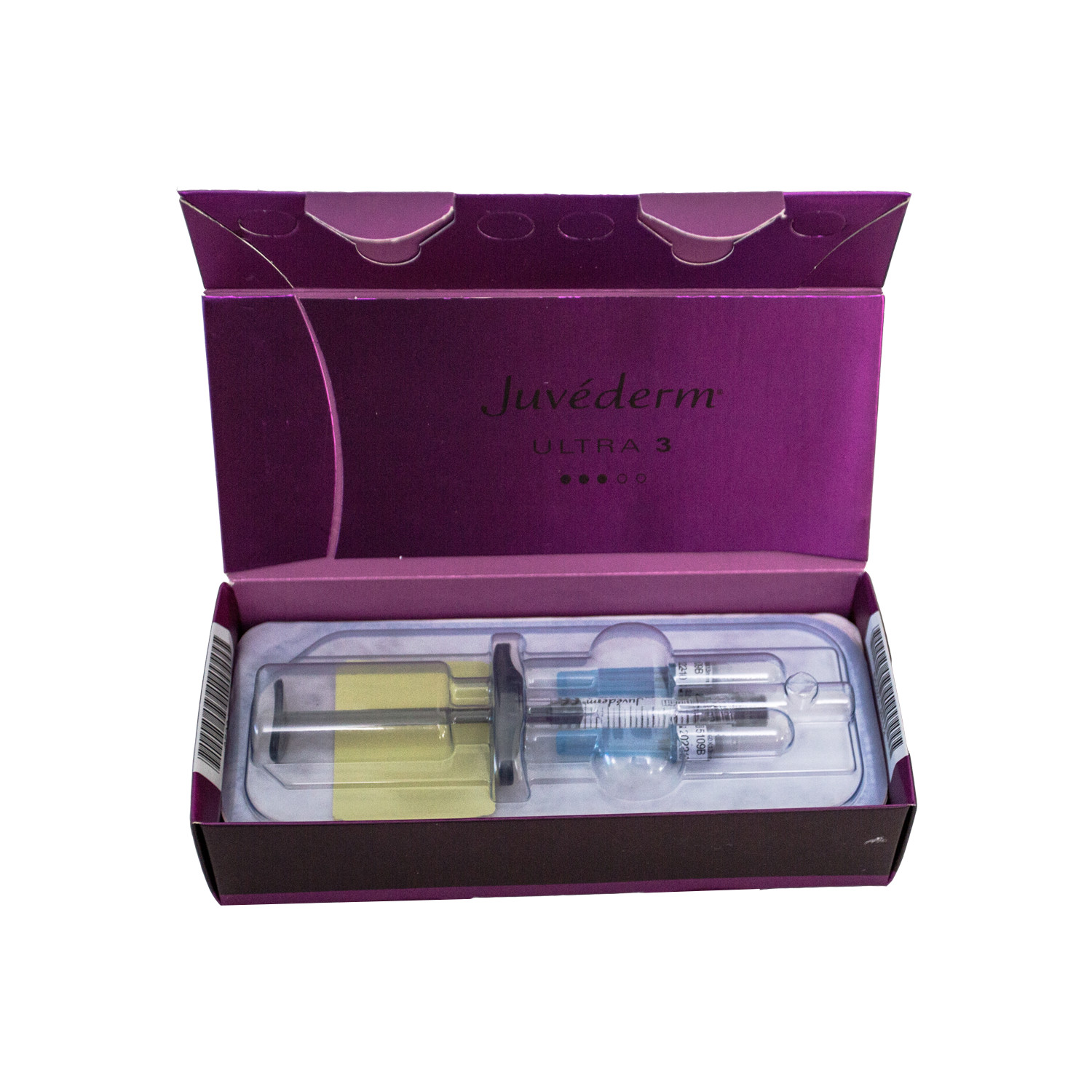 Material
Cross linked hyaluronic acid
Content
24mg/ml
Inject areas

Juvederm Ultra 3 is primarily used to fill moderate to deeper facial wrinkles that occur around the nose and the mouth: nasolabial folds and marionette lines.

In addition, Juvederm Ultra 3 can also be used to enhance lip contour and lip volume. The product contains lidocaine to ensure a more comfortable injection.





Package
2*1ml syringes
Delivery time

About 7~15days
RFQ:
What is in the box?
2 x 1ml syringes
What can Juvederm be used for?
Use for filling deep facial wrinkles and enhancing the lip shape and volume.
The gel containing lidocaine can be administered without any pain due to its smooth consistency.
How long will effects last?
The effects can be seen for up to 12 months.
WHY CHOOSE THE JUVÉDERM FILLER?
All the fillers in the Juvéderm collection are smooth, crystal-clear gels, administered by injection. The fillers are designed to create facial volume, smooth lines and to create lip volume. Within the Juvéderm collection, several products contain lidocaine - a powerful anesthetic - to ensure a more comfortable injection.
HOW LONG DOES JUVÉDERM LAST?
The results obtained with Juvéderm dermal fillers are instant and results can last up to one to two years. The duration of the results depends on the formula and the individual's lifestyle, age, and skin type.
Please add my whatsapp:+8613153138022
or send me the email: sales04@shinefiller.com