Restylane Filler Restylane with lidocaine 1ml Anti Aging Hyaluronic Acid Dermal Filler
What is RESTYLANE?
Restylane is made of Hyaluronic acid, a substance normally found in the skin that helps keep it plump. The hyaluronic acid molecule is hydrophilic, or "water-loving," a feature that allows it to bind to water to provide long-lasting results. Restylane restores volume and fullness to the skin to correct, smooth and plump, returning the face to a youthful fullness.
Hyaluronic acid therapy is a technique used in cosmetic surgery for the purpose of facial augmentation. The therapy is administered through a needle or a hyaluronic acid injection.There are dermal fillers used to add volume to deflated or depressed areas in the skin. After injecting the hyaluronic acid you can see potentially dramatic improvements for: Lips Enhancement, Nose Reshaping, Wrinkle Removing, For cheek, chin.etc.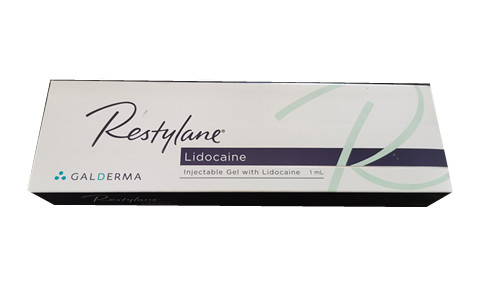 | | |
| --- | --- |
| Product Type | Restylane with Lidocaine |
| Volume | 1*1ml syringe |
| Application | Face Care |
| Concentration | 20mg/ml |
| Duration | 8-12 months |
| Shelf Life | 2 Years |


Restylane Lidocaine 1 ml – Description



Restylane Lidocaine 1 ml is used to reduce fine lines or moderate wrinkles and the restore facial volumes. The factory has developed this product with the NASHA patented technology to provide a solution for a moderate volumising effect.
This gel is made exclusively from hyaluronic acid of plant origin. Once purified, this gel goes through the unique cross-linking process.
This product contains 0.3% lidocaine, a local anaesthetic which gives both the client and practitioner a greater comfort during the session.
Treated areas
This product can be used on the following areas:
The nasolabial folds

Marionette lines

Dark circles
This gel must be injected into a medium derme to supra periosteum. The texture of the gel is firm thus giving a natural and long-lasting volumising effect. RESTYLANE contains an innovative hyaluronic acid which significantly increases the volume of soft tissues to smooth out wrinkles.